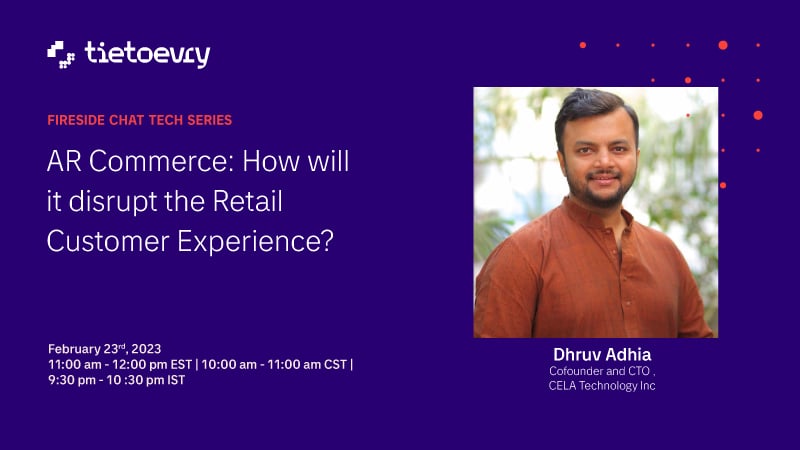 Retailers are going to lose if they do not render an immersive digital experience going forward. The transition seems inevitable to an immersive experience as opposed to a clicks-driven browse to checkout journey. In this Fireside chat we will interact with Dhruv Adhia, Cofounder and CTO at CELA Technology Inc., to explore how AR commerce will disrupt the retail customer experience.
Dhruv is a serial entrepreneur and inventor, confounding several companies in the field of AR and holographic reality space. Dhruv has been carrying out workshops and speaking at several world-renowned universities in India (Indian Institute of Technology), China and Canada.
Join us for an insightful session on AR shopping tools and their significance in enhancing customer experiences. We will also look at how our partner's offering will help retailers adopt the new technology seamlessly and with ease.
We look forward to your participation in this Fireside chat series.
Date: Thursday , 23 February 2023
Time: 9:30 pm – 10:30 pm IST I 8:00 am – 9:00 am PST I 11:00 am – 12:00 pm EST
Speaker: Dhruv Adhia, Cofounder and CTO , CELA Technology Inc
Host: Guruprasad Nagaraja, Enterprise Architect, EVRY India