TIETOEVRY INDIA PUNE OFFICE ACHIEVES ITS 100% RENEWABLE ENERGY TARGET
"I am delighted to announce that our Pune office started operating on 100% renewable energy from January 1 this year. This marks a significant advancement and a major milestone in our company's sustainability journey in India."- Raj Mohan, Country Manager, Head of Tietoevry Create India.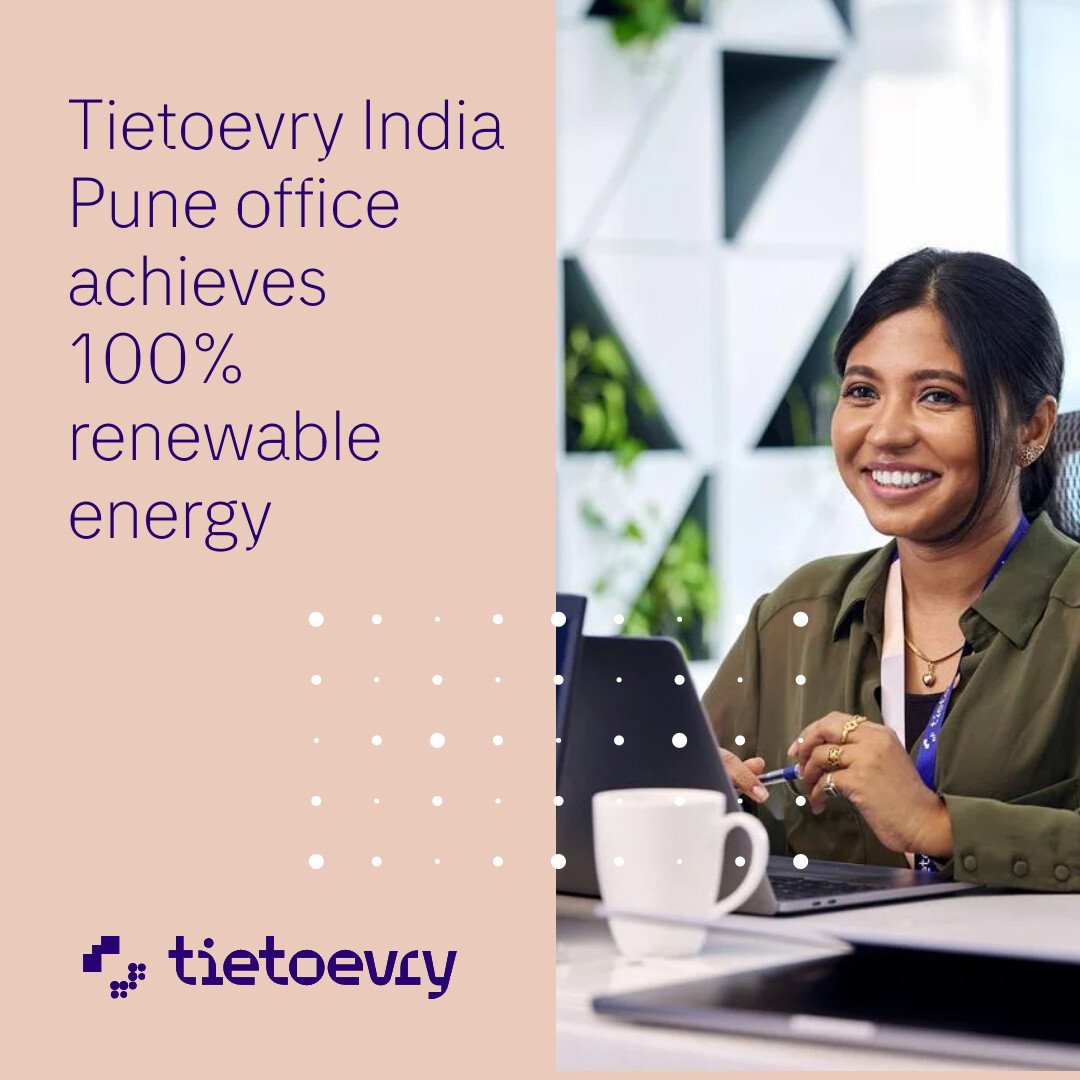 Tietoevry's Sustainability Game Plan "Upgrading tomorrow" defines our sustainability ambitions for the future. Our stated ambition in the plan is to reach 100% renewable and carbon-free electricity in our data centers and offices globally by the end of 2023.
Our Pune office is in Cluster D at the EON Free Zone 1 in Kharadi Pune, which has the LEED Gold certification issued by the Indian Green Building Council (IGBC). We recently received the Green Energy Certificate for availing the supply of 100% Green Energy from the EON facility developers and owners.
We have implemented ISO 14001 Environmental Management System globally and all our sites, group functions and business operations are covered in it to ensure excellent company-wide environmental performance. In India, we are one of the few IT organizations to have adopted ISO 14001 based Environmental Management System (EMS) implementation to systematically develop and continuously improve the environmental pillar of sustainability.
Our Tietoevry Pune facilities team put in continued efforts over the past few years to get the EON Free Zone 1 facilities team to implement a solution to supply green energy to our offices. Over time the EON team started providing green energy supply starting from 19% last year to finally reach the 100% milestone successfully at the beginning of 2023.
We aim to be carbon neutral and integrate circular and environmentally friendly approaches in our operations by 2025. Apart from achieving the 100% green energy target, we have taken ambitious steps in our climate work to follow circular practices, become more energy efficient and reduce power consumption, CO2 emission and e-waste in our operations as well as our value chain. Some actions that have been part of our decarbonization initiative are:
Replacement of all CFL bulbs and conventional tube lights with LED lights to reduce energy consumption.
Upgradation of electrical devices to improve energy efficiency:

Optimization of UPS load management to reduce e-waste
Installation of harmonic filters at major load centers to improve power quality.
Replacement of old HVAC system by an Inverter type outdoor machine to reduce energy consumption.
Replacement of desktops with laptops
Upgradation of our printer technology to avoid paper wastage

Installation of motion sensors in all meeting rooms, so the LED lights and AC switch off when not in use.
Use of optimization technologies and power devices to significantly reduce our e-waste. In compliance with the legal requirements, we follow a process for e-waste management that reduces our environmental impact.
Use of recyclable bamboo paper-based diaries and jute bags.
Deployment of an online digital document sign solution to reduce paper consumption.
We have optimized office seating capacity to support hybrid ways of working to achieve better space and energy management. The renovation and refurbishment of three office floors was done recently reusing materials from the floors that were given up as part of our office capacity optimization.
Deployment of air purification solutions to maintain CO2 ppm levels within acceptable limits. We get external periodic audits to ensure that healthy air quality is always maintained in our offices.
Our employees and leadership have achieved 99.5% compliance with essential environmental training consistently for the past 4 years.
As part of its sustainability initiatives EON has installed 14 Electric Vehicle (EV) charging stations for four wheelers. We encourage our employees to adopt sustainable transportation and promote greener commutes, which will go a long way in improving our air quality and a cleaner environment. We also encourage our employees to increasingly follow green practices and help minimize our environmental footprint. Watch our 'Sustainability in Action' video to know more about the sustainability initiatives at Tietoevry India.
Tietoevry aims to take a proactive and responsible approach towards minimizing environmental footprint in the whole life cycle of its business operations. We are committed to protecting the environment and preventing pollution.
Find out more about our sustainability initiatives here. Read about the Tietoevry Sustainability Game Plan 2023 and learn about our sustainability goals by watching the video below: