Christian Pederson, Managing Director,Tietoevry Create has been awarded by the Norwegian ODA Women in Tech Network the ODA Man 2023 Award.
The recognition is given annually to one woman, one man, and one company for their efforts to drive diversity, equity, and inclusion in the industry.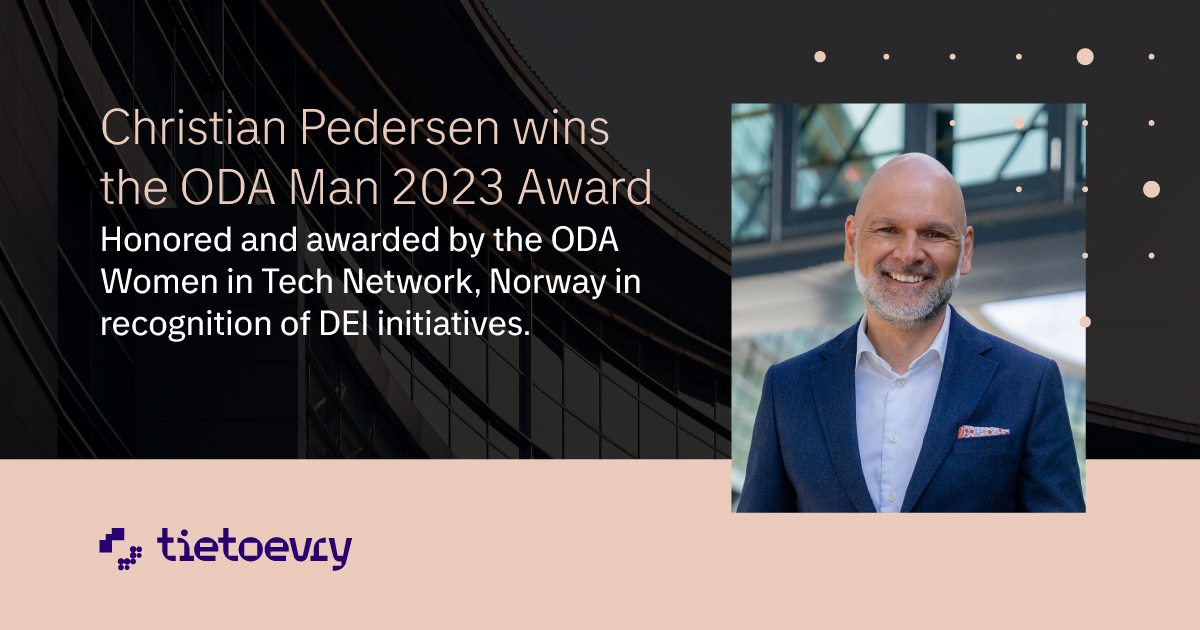 Christian believes "While I am truly grateful for receiving this award, I feel it is essential to reflect on the wisdom of the Chinese proverb: If you want to go fast, go alone. If you want to go far, go together. Creating a lasting and positive impact is a journey that necessitates teamwork. I am fortunate to be surrounded by a large group of dedicated people who are also committed to this matter. And I am proud to be sharing the award with each one of you, as it equally belongs to all".
According to ODA Network, Christian is a role model who uses his influence combined with a genuine belief in diversity, equity, and inclusion. He earns great respect from everyone around him wherever he goes, thanks to his long-term passion to improve diversity. For Christian, the world cannot move fast enough, and he uses his position to challenge and drive change.

"Being honored with this award is an amazing testimony of how committed we are to instilling diversity, equity, and inclusion in everything we do. We have started to consistently work to enhance diversity focusing on tangible actions but there is a lot to be done to see real change. Heartfelt thanks to ODA Network for the recognition which implies we are on the right path," says Christian Pedersen.

"This award is an achievement of a large group of dedicated people in our company who are committed to changing the status quo. We will continue to implement new policies and changes that contribute to an even more inclusive workplace," Pedersen continues.
In Tietoevry Create, Christian has taken active measures to increase the proportion of women. He has for example implemented concrete targets to increase women in management positions and in technical roles and increase the proportion of men in support functions. In addition, he has introduced several initiatives to promote diversity, such as highlighting diverse role models in the company, initiating a reverse mentoring program focusing on diversity for global management, as well as implementing DEI-related training for all managers. He is also a sponsor of AFF's leadership program FiftyFifty in addition to NHO's Female Future leadership program.

In Tietoevry, diversity and inclusion are a central part of the company's strategy. Read more about it here.

ODA Network's goal is to inspire and equip women in technology to empower themselves and others to lead the change. Read more about ODA Network here.