EVRY USA, A Tietoevry Company, a leading IT software and service company providing IT and product engineering services, announced its partnership with the global digital adoption platform (DAP) market leader, Whatfix, to implement software solutions for its global customers.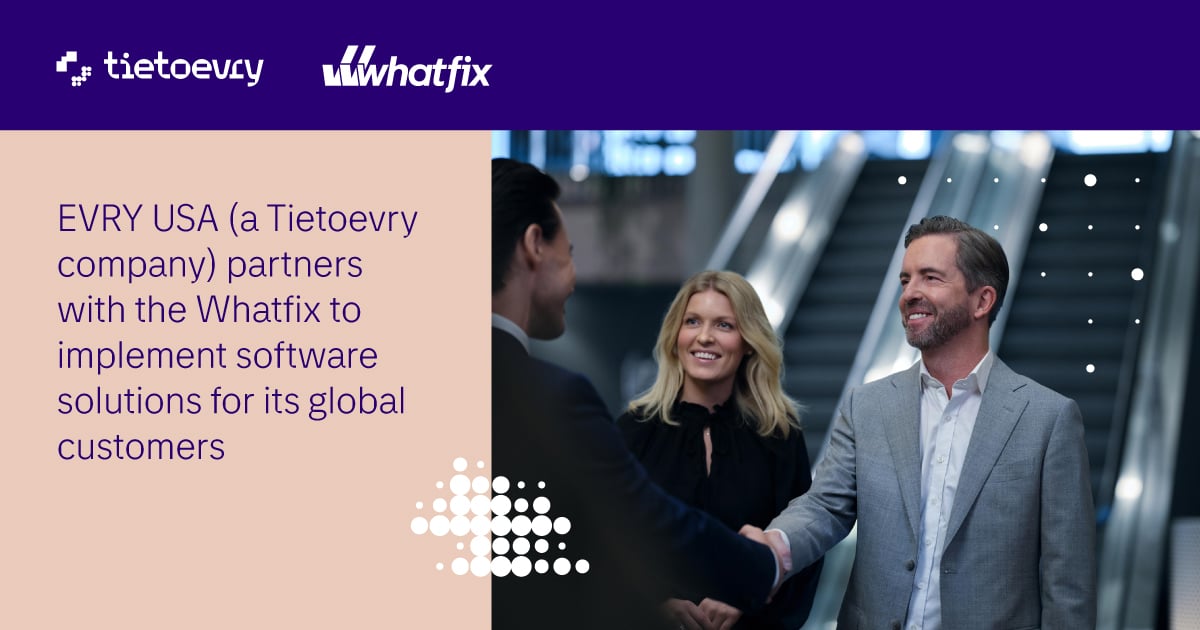 This partnership empowers Tietoevry customers to navigate their business software platforms effortlessly, reducing support and training costs and increasing user productivity while simultaneously influencing business value outcomes like revenue win rate, cost reduction, risk compliance, and more. Tietoevry team will deploy Whatfix on top of their clients' software environment to enable quick and seamless onboarding, personalized training, and increased user adoption.
"We are excited to onboard Whatfix as our strategic Digital Adoption Solution partner. As an IT services and digital product engineering firm, our people work across multiple digital applications for a variety of customers. This partnership with a leader in Digital Adoption Platform solutions will make it possible for our customers to embrace those applications more quickly and easily", said Ram Mohan, EVP, EVRY USA.
Companies investing large budgets in new enterprise software expect to see immediate results but often encounter inadequate user adoption. In their latest digital adoption survey, Whatfix found that 78% of software users lack the expertise needed to use the applications required in their jobs. Through Whatfix's contextual, interactive, and real-time in-application guidance, Tietoevry can now help its customers reduce the time to launch newly implemented tools, improve employee productivity, and reduce training costs and support tickets.
DAP solutions foster a self-serve culture by providing personalized and on-demand guidance to the user within the application itself, unlocking maximum productivity and the full potential of the software while preserving employee workflows.
"We are thrilled to partner with Tietoevry as we begin the next generation of DAP solutions with userization at its core – creating personalized, inclusive, and integrated software experiences ultimately impacting business outcomes,' said Khadim Batti, CEO and Co-Founder of Whatfix. "This strategic partnership underscores our mission to empower every software user and owner to reach their maximum potential with enriched software experiences provided by Whatfix helping drive the success of their digital transformation initiatives."
About Whatfix –
Whatfix empowers anyone, anywhere to have scalable success with the technology they use every day, achieving greater knowledge, expanding capability, and unlocking productivity for themselves and their organizations. Whatfix's Digital Adoption Platform (DAP) integrates seamlessly with applications to enable users, providing in-context information and guidance to immediately increase individual capability and collectively amplify productivity. The organization has six offices globally in the US, India, UK, Germany, and Australia, and works with Fortune 500 companies around the world. Whatfix has raised $140 million to date, and is backed by marquee investors including Softbank Vision Fund 2, Sequoia Capital India, and Cisco Investments. For more information, visit Whatfix's website.
About Tietoevry –
Tietoevry creates purposeful technology that reinvents the world for good. We are a leading technology company with a strong Nordic heritage and global capabilities. Based on our core values of openness, trust and diversity, we work with our customers to develop digital futures where businesses, societies, and humanity thrive.
Our 24,000 experts globally specialize in cloud, data, and software, serving thousands of enterprises and public-sector customers in more than 90 countries. Tietoevry's annual turnover is approximately USD 3 billion and the company's shares are listed on the NASDAQ exchange in Helsinki and Stockholm, as well as on Oslo Børs.