Meet thought leaders from the healthcare industry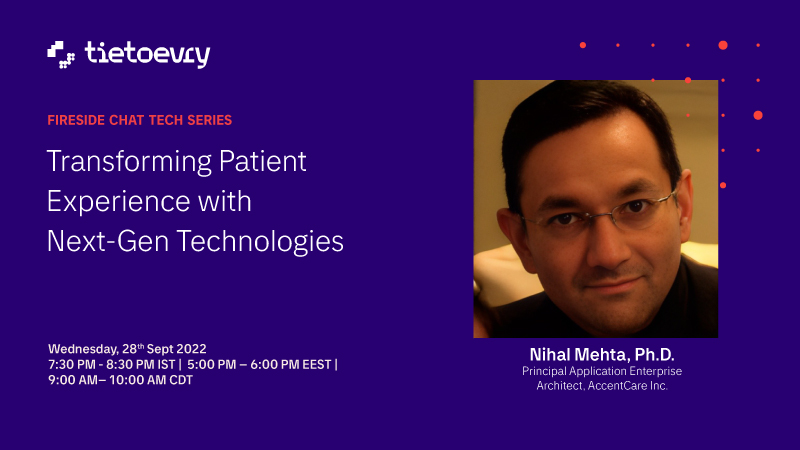 Technology has disrupted every industry, including healthcare. Advancements in healthcare technology have allowed physicians to diagnose and treat their patients better. Post-Covid, the emerging technologies in the healthcare sector can enhance the patient's experience while improving the provider's workflow. This drives new product development initiatives and refines existing products.
In this Fireside chat, we have an expert from the healthcare industry – Nihal Mehta, Principal Application Enterprise Architect, AccentCare Inc., one of the leading healthcare companies in the US in the post-acute care space. He has championed advanced optimization techniques and machine learning in decision-support systems for global companies with a specific emphasis on human interface design and UI/UX. He is also the author of Quantum Computing: Program Next-Gen Computers for Hard, Real World Applications.
Nihal will share insights on how Next-gen digital technologies can help to solve healthcare challenges and enhance the patient experience by connecting the three PPPs (Patient, Payor, Provider) of healthcare. We will also discuss how to provide an optimal customer experience, and organizations can leverage this as a part of their growth strategy.
Click to watch the full webinar video here
Date: 28 September, Wednesday, 2022
Time: 7:30 PM - 8:30 PM IST I 5:00 PM - 6:00 PM EEST | 10:00 am–11:00 am EDT | 9:00 am– 10:00 am CDT | 8:00 am–9:00 am PDT |
Speaker: Nihal Mehta, Principal Application Enterprise Architect, AccentCare Inc.
Host: Shridhar Purohit, Head of Healthcare offerings, EVRY India