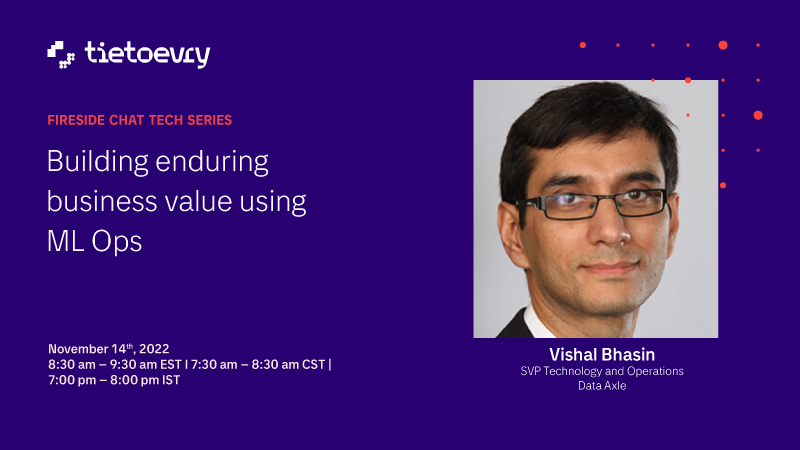 Building ML models is not just about Training, Testing, and Deploying. The challenge lies in maintaining the ML Models in production without degrading performance. One has to face many unique situations in building enterprise-level ML models. However, one can apply DevOps principles similar to those used to operationalize applications for operationalizing ML Models as well. This approach helps solve many challenges in production alongside strongly coupled pipelines that can perform seamlessly and give any organization better business value in the long run.
In this Fireside chat, we have the pleasure of hosting an expert in Technology and Operations, Vishal Bhasin, SVP , Technology and Operations, Data Axle. Vishal, in a career of over two decades as a transformational technology leader has had extraordinary success in positively impacting revenue and increasing performance by setting up and scaling world-class teams in enterprises. He has established and led digital transformation practices and culture focusing on operational efficiency and customer experience.
In this session, we will understand the fundamentals of ML Ops, where different industries and organizations are in their journey, and what they need to imagine, define and do to achieve maturity. We will also focus on the ground-level barriers for businesses to take this journey to realize business value.
We look forward to your participation in this Fireside chat series.
Date: November 14, Monday, 2022
Time: 7:00 pm - 8:00 pm IST I 8:30 am – 9:30 am EST I 7:30 am – 8:30 am CST |
Speaker: Vishal Bhasin, SVP , Technology and Operations, Data Axle
Host: Abhishek Pandey, Senior Consultant, Digital Innovation, EVRY India